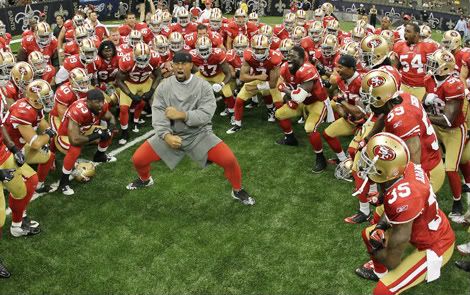 Image courtesy of 49ers.com
Scott Robinson
Undoubtedly, if you're a football fan you'll be glued to the good ole' tube today as the NFL Playoffs run their course. In what will be a couple classic Offensive vs. Defensive match-ups, the two of the more dominant defensive teams featured in the playoffs will run the same base: a 3-4 scheme. The San Francisco 49ers (
3rd Overall Defense
) face the New York Giants (
8th Overall Offense
) while the Baltimore Ravens (
4th Overall Defense
) will take on the New England Patriots (
2nd Overall Offense
). New UCLA Football Coach, Jim L. Mora, while busy closing out 2012's recruiting class, would probably like to catch a minute or two of his old team, the 49ers. With the Bruins jumping on the 3-4 band-wagon, watching the 49ers (or Ravens) could help imbibe the traits required to run such a scheme.
So why will UCLA be rolling out a 3-4 defense now? Combing through their defensive coaching hires, it's clear 3-4 is the direction UCLA will be headed. Hints start with Lou Spanos, whose previous stints include acting as the Pittsburgh Steelers' "Defensive Quality Control" coach (1995-2009) as well as linebackers coach for the Washington Redskins (2009-2011). Of course, the Steelers have been known for their defense for some time—Particularly the fashion of 3-4 which has led them to the Super Bowl on numerous occasions. For the Redskins, Spanos instilled the 3-4 in 2010 and developed this year's league-leading tackler, London Fletcher. Add to that new UCLA Linebackers coach, Jeff Ulbrich (linebacker for the 49ers from 2000-2009 with extensive 3-4 experience). Clearly, Coach Mora believes the 3-4 is the right change of pace to upgrade last year's struggling defense.
In what would now be "buy" years based on Easterbrook's cyclical observations, the 3-4 appears to have been around for ages:
Twenty years ago, the 3-4 was the most common NFL defense -- Super Bowl XXV between the Giants and Bills matched two 3-4 defenses. Roughly by the year 2000, NFL offenses had figured out how to counter the 3-4, and defensive coordinators began to rediscover the 4-3. The disruptive, Super Bowl-winning Baltimore and City of Tampa defenses of this phase were conservative 4-3 schemes. Through the middle 2000s, the 4-3 was the "It Girl" defense. Then coaches and quarterbacks got a good handle on the 4-3, and defenses started reverting to the 3-4. Within a few years, the 3-4 will be understood again and teams will switch to the 4-3 as the hot defense.
So, according to Easterbrook, this generation's crop of quarterbacks (i.e. Joe Flacco and Alex Smith) should be reading up on yesteryear's Troy Aikman, Jim Kelly and Dan Marino. In order to really comprehend the defense, perhaps a look at successful quarterbacks who have faced the 3-4 might yield a clue or two for its weaknesses.
Successful QB's Against the 3-4
One highly rated quarterback could be seen as already taking notes—at least with his performance against the archetypal 3-4 in the Pittsburgh Steelers last year. While he did get somewhat of a head start in being able to tutor under the likes of Brett Favre, Aaron Rodgers proved in Super Bowl XLV he was well-versed in bucking a 3-4's zone blitzing pressure. Churning out
24 for 39 for 304 yards and three TD's
against the
second best defense
in the league implies Rodgers did some homework. I'd figure practicing against his own Packer 3-4 defense wouldn't hurt either. Interestingly, Rodgers and his offense package mostly utilized the receiving core apart from tight ends—Opposite an offensive strategy which will be witnessed in today's games.
Another quality quarterback will be put to the challenge against the 3-4 today in Tom Brady and his Patriots. The Ravens will be up against a match-up nightmare when facing the New England tandem of tight ends in Rob Gronkowski and Aaron Hernandez: A pair that has produced 24 touchdowns (
eclipsing the previous record of 17
). For the Giants, the Niners also hold a certain tight end capable of changing an entire defense's mindset (See: The Catch III).
For the most part, passing to spread the field seems to do the trick when facing the 3-4—opening up a running game to counter a few stifling defenses. But, with this being said, will the old mantra of "Defense wins championships" hold true?
3-4: The Importance of Personnel
For anyone unfamiliar with a 3-4, it's surprisingly straight forward. In any given defensive play,
three
defensive linemen,
four
linebackers, two flanking defensive backs and two safeties (in the reserve) line up against the offense. The 3-4 delivers pressure with a focus on "gap integrity," and in doing so, it provides a confusing environment for the offensive line. At any given moment, all seven in the box for the defense require accountability for protection, whereas with the 4-3, only four would be necessary. This flux of rushing linebackers at any given moment also provides momentum towards a developing play. Running downfield to meet the offense can be likened to the opposite of sweep offenses, where the linebacker literally gets a sprinting start to defending the play.
So, for any 3-4 to work, the nose tackle is where it all starts. As described by Kirwan of NFL.com in his article,
Top Interior Defensive Linemen Feature Distinct Skill Sets
: "
A 3-4 nose tackle is asked to command double teams and prevent guards and centers from getting to second-tier blocking at the linebacker level
." Kirwan also implies the defensive ends in a 3-4 "
work down into the 'B' gap to defending power running plays
."
The nose tackle is the run-disrupter—essentially requiring attention from two offensive linemen in any given play. Names like Terrance Knighton, Sedrick Ellis, Kendall Langford and Ndamukong Suh fit the bill as the perfect nose tackle. In today's games you can look for Haloti Ngata as he lines up as nose tackle for the Ravens and Isaac Sopoaga for the 49ers. Watch for the type of disruption they create and the number of offensive linemen that will be forced to pay attention to them.
To effectively defend within this 3-4, having dynamic outside personnel is also key. To compensate for one less rushing lineman, the defense requires a specialist type of player. Usually this role is played by a hybrid lineman-to-linebacker type body. A perfect athlete to exemplify this role would be Jason Taylor: 6'6/ 244. Listed as an outside linebacker, Taylor's quickness paired with a large, athletic body, allowed him to serve the role of hybrid between the line and line-backing core.
Players to watch holding this similar physique in today's games will include Navarro Bowman (SF), Ray Lewis (BAL) and Patrick Willis (SF). As a result of such an athletic position, the defense then can increase its speed by closing the lateral-moving plays faster. This also delivers a more mixed package of blitzing—With quickness comes an easier ability to recover on a broken play. From an offensive standpoint, the counter to this speed is often power, options and play-fakes—Basically anything that allows the defense to "over" pursue a play.
A Bruin 3-4 Lineup
To incorporate such a defensive scheme, Mora will no doubt shuffle a few names. Notably, the first fruits of the defensive switch come in the form of Anthony Barr (6'5 / 240)—Now a linebacker (previously on offense as "H-back"). Furthermore, a few recruits hopeful to be folded into the 2012 class can certainly be viewed within the 3-4 paradigm. Most notable would include big defensive lineman, Ellis McCarthy (6'5 / 295). A perfect match as a potential nose tackle, watch him dominate at the recent LA Nike Combine:
Other recruits likely to fall in place under a 3-4 include Nate Iese (6'4 / 240), Kenny Orjioke (6'4 / 225), Aaron Porter (6'2 / 230) and Eli Ankou (6'3 / 245). The current roster is also stocked full of athletes resembling that hybrid somatotype required for 3-4 play. For defensive linemen, look for Datone Jones (6'5 / 270), Keenan Graham (6'3 / 255), Sealii Epenesa (6'2 / 305), Owamagbe Odighizuwa (6'4 / 265), Kevin McReynolds (6'3 / 305), Brandon Willis (6'3 / 275), Damien Holmes (6'3 / 270), Cassius Marsh (6'3 / 290), and Iuta Tepa (6'3 / 260). For the line-backing core expect Jordan Zumwalt (6'4 / 215), Aramide Olaniyan (6'2 / 215), Eric Kendricks (6'1 / 215), Patrick Larimore (6'3 / 250) and Todd Golper (6'1 / 230) to all compete for time.
Of course, any good defense is not without a certain grit-type mentality. See the stat regarding the number of starting running backs that have been knocked out of games against San Francisco…
7
. An increase in speed, paired with the influx of top talent like McCarthy, should improve the dismal showings of Bruin defense from this past year. For Mora, hopefully a switch to the 3-4 proves to be much better attuned to the personnel.
However, on this showdown Sunday, we all get the opportunity to witness some of the best executing 3-4 schemes in the Ravens and 49ers—Maybe the Bruins will take some notes of their own?